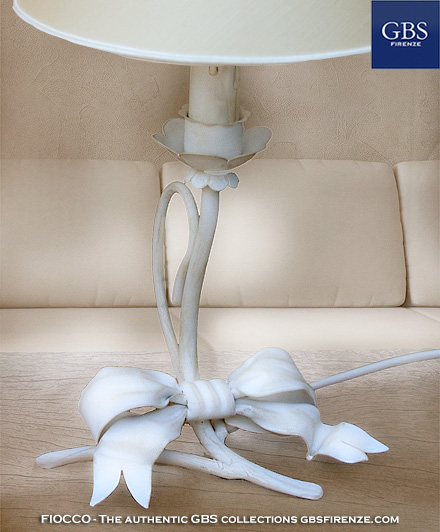 Fiocco Bedside. Ad una luce, lumetto Fiocco in tempera con paralume artigianale. Ferro battuto e decorato a mano. GBS Firenze. Made in Italy
Elettrificazione E14
La lampadina non è inclusa
Altezza cm.30
Colore bianco in tempera anticata.
Disponibile di qualsiasi altro colore
Puoi scegliere la Lampada Fiocco di qualsiasi colore:
1) Ordina 2) Dopo aver ordinato, invia una email ( gbs@gbsfirenze.com ) e scegli il tuo colore.
Il prezzo non cambia!
---
Altre misure e colori? Chiedi un preventivo:
gbs@gbsfirenze.com
- Info Prezzi: 328-8963044
---
Wrought iron. Handmade in Florence. Since 1925 All GBS products are offered on a 14-day money back guarantee. SECURE PAYMENTS. The tranquility of our customers is our own. We offer secure payment methods with encrypted platforms.
---
A causa delle recenti disposizioni del Governo contro la diffusione del Coronavirus (DCPM 11 Marzo 2020), la produzione e le consegne potrebbero subire dei ritardi.
---
Modalità di acquisto
Pagamenti sicuri con Bonifico Bancario, Carta di Credito, Paypal
Consegna a domicilio
Spedizione con Dimensioni Standard – Italia:
Consegna gratuita per ordini superiori a Euro 300,00
Spedizione con Dimensioni Voluminose – Italia:
Consegna gratuita per ordini superiori a Euro 600,00
Spedizione con Dimensioni Extra Large – Italia:
Contributo di Euro 45,00
Qualità garantita
Ogni dettaglio, ogni fiore, ogni petalo, ogni ramo è in ferro battuto e decorato a mano, ogni lampada elettrificata con certificazione CE, ogni articolo realizzato scegliendo le migliori materie prime, le più sicure, atossiche e rigorosamente controllate. Ogni articolo di GBS è interamente progettato e realizzato nella sede produttiva di Firenze. Il vero Made in Italy, dal 1925